Need some extra cash? In this article, we're sharing the best money making apps to help cushion your wallet.
Do you spend a lot of time on your smartphone? I know I do. Seems like I'm not the only one.
For a lot of us, our phone is a permanent fixture in our hand or pocket, and whenever we have a moment of idle time, we check it for messages, emails, social media, or we're sucked into a pointless game with endless levels.
In fact, according to a recent study from Britain's Nottingham Trent University, the average young adult now spends nearly 5 hours a day on their phone.
Crazy, right?
What if, instead of wasting time on your iPhone, you could actually make some money instead?
As it turns out, there are a ton of money making apps out there that allow you to work online — more than you might expect.
Whether it's money deposited directly into your PayPal account, getting free gift cards to your favorite retailers, or cash back on all your purchases, companies are eager to get new app users — and they are willing to pay you! If you're going to spend one-third of your waking hours on your phone each day, it can't hurt to make a little extra money while you're at it.
I recently decided to give a few of the most popular money making smartphone apps a try. I figured it was worth a shot, given my recent Candy Crush addiction. Something had to give!
22 Best Money Making Apps for 2020
This list of best apps to make money using your phone is broken down into the following categories:
Survey and Micro Task Apps
Cash Back and Receipt Scanning Apps
Apps That Pay You for Simple Tasks
Best Apps for Selling Stuff
In the process of trying out these apps, I did come across a few duds that I decided to leave off the list. Choose from this list, and you won't end up wasting even more time with the apps that are glitchy, hard to use, and under deliver.
This list has only the best apps for making money, both for Android and iPhone.Note: Some of these offers are only available in certain areas and on certain platforms. We just wanted to give you a heads up if you were wondering why you can't install a certain app on your phone.
Survey and Micro Task Apps
1. Swagbucks – $10 Bonus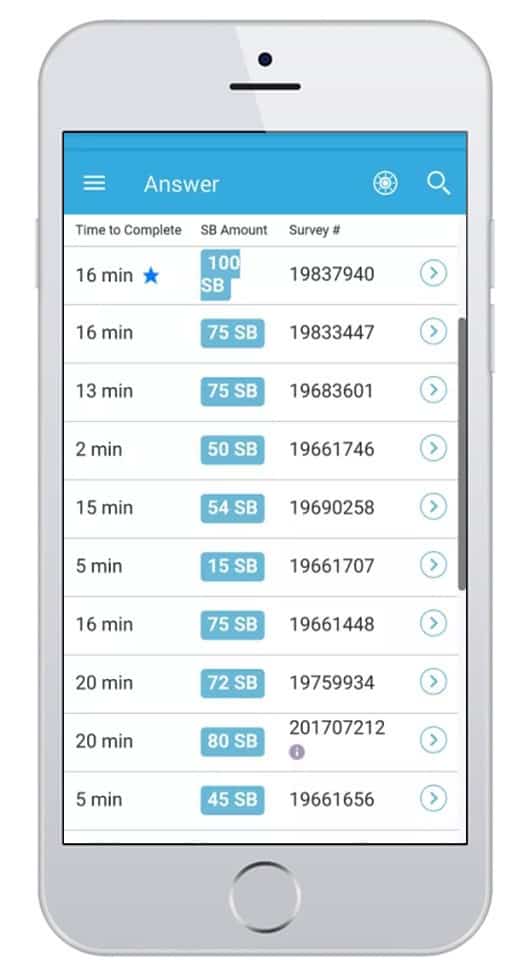 Without a doubt one of the best money making apps out there, Swagbucks allows you make money using your phone in 6 different ways. Plus you can get a free $10 just for signing up.
Swagbucks allows users to earn SB Points by watching videos, taking paid surveys, playing games, searching the web, or shopping online. You can then redeem your SB points for cash deposited directly in your PayPal account or by claiming gift cards to one of over 1500 retailers (like Walmart or Amazon).
The best part is that there is no limit to how much you can earn. You're not going to replace your full time income from it, but if you use Yahoo! as your browser, play a few games and take a few surveys, there is no reason you can't boost your income by at least $25-50 each month.
With an A+ rating with the BBB and over $166,000,000 paid to members to date, there is no reason not to try one of the highest paying apps out there.
2. InboxDollars – $5 Bonus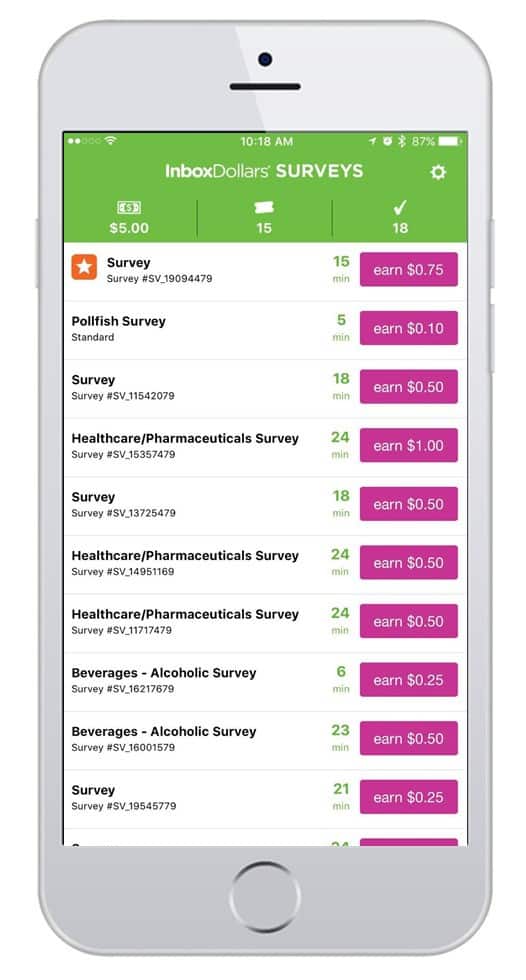 As the name suggests, InboxDollars will pay you for opening and skimming emails and answering simple surveys. There is also a $5 signup bonus.
InboxDollars works on a cash only system, so you don't have to worry converting points to cash or only being compensated in gift cards. And according to their website, they have paid out over $57 million to users who have completed surveys over the years.
After my initial $5 bonus, I found that many of the surveys did not pay out a ton of money, which was a bit of a bummer.
Nonetheless, clicking around and answering questions can still net you a couple of bucks an hour, which is better than nothing.
3. MyPoints – $10 Bonus
Want $10 for a few minutes of your time? MyPoints is one of those money-making apps that bribes users to sign up by offering $10 Amazon gift card for new users. But that's not where it ends.
By installing the app, and using on a regular basis, users accumulate points that they can exchange for cash, gift cards or physical gifts. Its basically a rewards program for your phone…and that is exactly how you should look at it.
These money making apps are not get rich quick schemes. Their purpose is to add a few bucks to your bottom line each month by doing things you're already doing.
4. Pinecone Research
The thing about many survey apps is, they can be a major time suck for almost no reward.
That's why Pinecone Research is particularly attractive for survey takers. Each survey pays a flat $3, and they'll often match you with surveys that match your interest and demographics.
Cash Back and Receipt Scanning Apps
5. Rakuten – $10 Bonus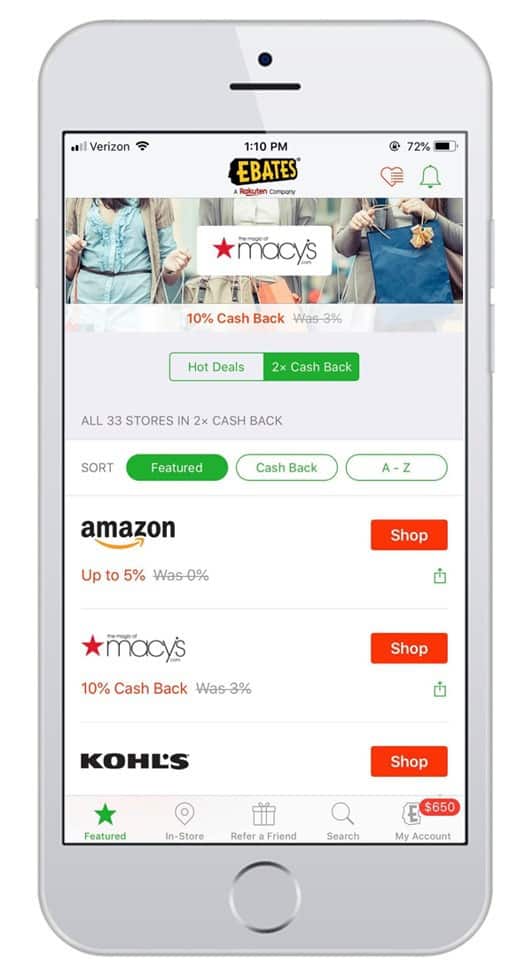 You've probably heard of Rakuten (formerly Ebates) before for desktop, but they also have a mobile app.
All you have to do is shop at the stores you love (either online or in person), and you get cash back on your purchases. If you take advantage of special events, holidays, and promotions, you can earn up to 12% back in some cases.
Better yet, they're offering new users $10 just for signing up.
All you have to do is log in to the app and search the retailer you'd like to shop with. You'll go directly to their e-commerce store and start collecting rewards automatically when you buy. You have the option of redeeming those rewards as cash, gift cards or a PayPal deposit.
Cool thing is, this is on top of any discounts/coupon codes you already have.
6. Ibotta – $10 Bonus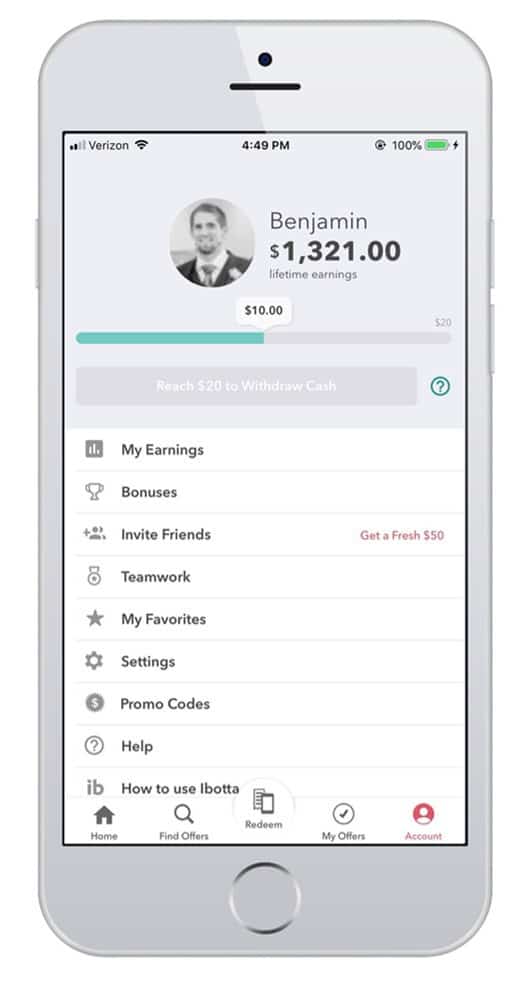 Ibotta is yet another of the money making apps you'll see on this list that revolves around cash back shopping.
But unlike some of the others, Ibotta has become immensely popular worldwide because it extends to grocery brands and it has an affiliate program that allows users to invite friends and make even more money.
You get $10 just for signing up, and similar to an app like Lucktastic, they pay you $5 more for each friend you refer.
Your earnings potential is unlimited. Not bad considering you're helping your friends save money and handing them an extra ten bucks at the same time.
7. Dosh – $5 Bonus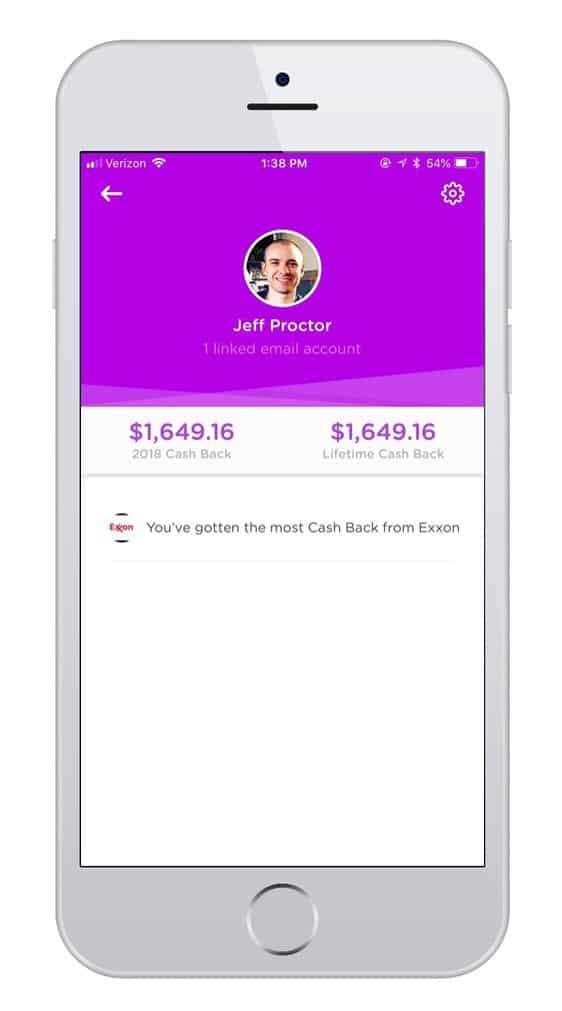 Dosh is a smartphone app that gives you cash back every time you make a purchase at participating outlets using your credit card.
Not having to jump through hoops to earn cash back is probably the biggest perk of Dosh. For instance, I've been getting cash back from Exxon each time I fill up my gas tank and I didn't even realize it until recently. The money just gets added to my Dosh account.
Just download the app, link your credit card (this is secure), then you're off to the races. You can start shopping at participating merchants using your credit card and points will be added to your "Dosh Wallet" straight away.
Once your balance reaches a minimum of $25, you can cash out via Direct Deposit or PayPal.
8. Receipt Hog
This receipt app was the first one I tried, and still my favorite to this day. They don't always accept new users, so check back regularly if you're not able to sign up.
With this app, you can get credit for any receipt imaginable with the exception of restaurants and a handful of stores. However, you should still scan those receipts because you'll be entered into monthly drawings.
Passive Income Earning Apps
9. Acorns – $10 Bonus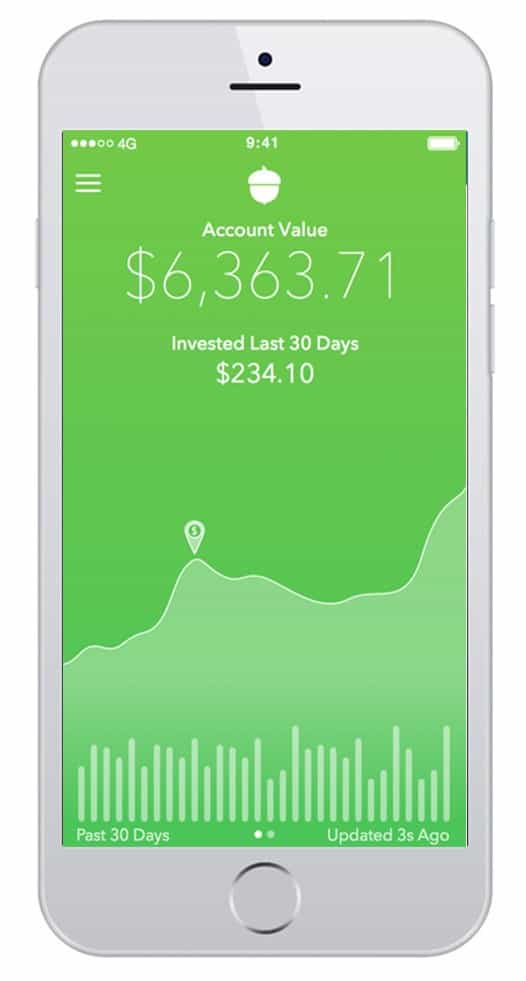 If you want to start saving up for your future and investing for retirement, consider checking out Acorns.
This is a beginner-friendly investing app that can help you get started with investing using just your smartphone.
Better yet, Acorns is now offering a $10 signup bonus for new accounts opened.
After completing your account registration, Acorns will deposit $10 into your account to give your investments a head start.
10. Nielsen – $50 per Year
Have you heard of Nielsen ratings for TV shows? Well, it turns out that Nielsen collects data on a lot more than just TV. One area they're really into is internet usage research.
What does that mean for you? It means Nielsen will pay you $50 a year to keep their app on your favorite internet browsing device. The app itself collects statistics on your internet usage anonymously, so you never have to worry about any data being linked to you.
The app takes up barely any space and doesn't slow down your phone or tablet at all!
11. Stash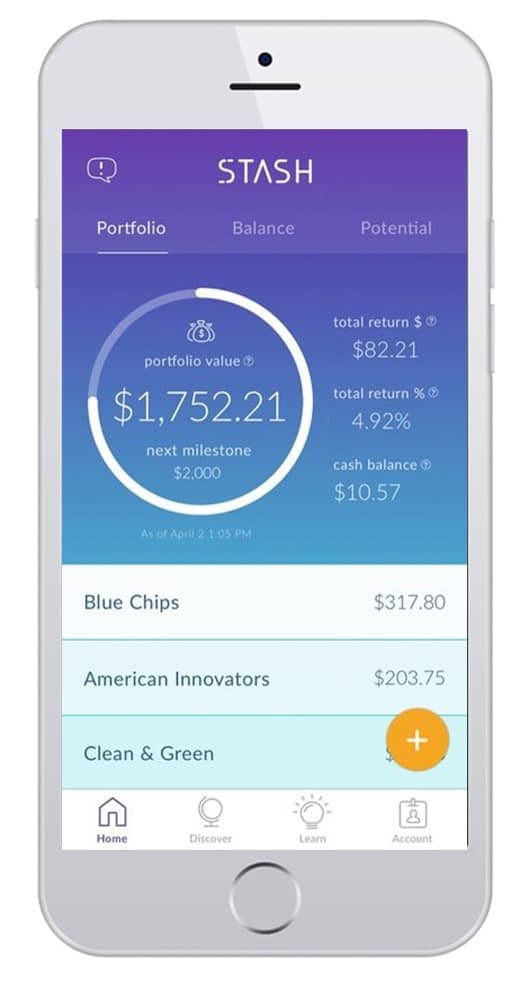 Stash is another investing app designed to make investing simple. For most people that's a good thing. If you're a seasoned investor you may find the app too simple for your taste (but that's kind of the point).
Stash does most of the work for you. You pick what you are interested in (like tech, or clean energy, or retail stores) and Stash can provide a user with diversified portfolio options. From there you can setup the app to pull a few bucks a week from your bank account and can start to grow your investing principle.
If you're interested in investing, but have no clue to start, try starting with as little as $5 and let Stash do the rest. Better yet, Stash will spot you $5 just to get started.
*DollarSprout is a paid Affiliate/ partner of Stash. Investment advisory services offered by Stash Investments LLC, an SEC registered investment adviser. This material has been distributed for informational and educational purposes only, and is not intended as investment, legal, accounting, or tax advice. Investing involves risk.
12. Slidejoy
Slidejoy belongs on this list because it is without a doubt one of the easiest money making apps out there. I am not saying this because its going to make you rich. It won't. But it will make you a cool $5-15 per month according to the developers.
So how does this money making app work? Per Slidejoy:
Upon turning on your phone, you will view an aesthetically pleasing ad on your lockscreen. Then,
You will have a choice to ignore the ad by sliding right and unlocking your phone
You will also have a choice to engage with the ad by sliding left. Upon sliding left, the phone will unlock and you will be directed to a destination specified by the advertiser (YouTube, advertiser website, Google Play, coupon page, etc.)
To prevent bias, you will make an equal amount regardless of whether or not you engage with an ad
Over time, Slidejoy learns your ad preference based off of your behaviors during different times of day and curates a more relevant user experience
You can cash out your earnings via PayPal/several gift cards or choose to donate it to charity
As long as you can put up with your smartphone's lock screen being trending news stories or ads (which disappear when you open your phone), you're looking at $180 a year (or more). Slidejoy says that as the ads get more catered to your interests, the payouts actually go up. They don't say by how much but getting up to $200 a year shouldn't be too hard. Not bad for selling your phones lock screen to the highest bidder (literally).
Side Hustle Apps
These are some of my favorite apps on this list, simply because they require some hustle. If you are willing to put in some time, downloading these apps and doing the work can pay serious dividends.
13. Uber Eats
Tons of folks nowadays have started delivering food with Uber Eats because it's is a flexible, easy way to earn money on your own schedule. You can deliver day or night, whenever it is convenient for you. If you are approved, you just sign onto the app, and you can start receiving delivery requests in your area.
With Uber Eats, you can choose how you deliver. Depending on your city, you may be able to deliver food with your car, bike, or scooter. Between deliveries, it's just you, so you can turn up the music and cruise around town.
Once you finish a delivery you can take the next request, or sign off for a few hours or the rest of the day—it's totally up to you how many deliveries you make. And just like other delivery gigs, at the end of each delivery, you'll be eligible to receive a tip.
14. Instacart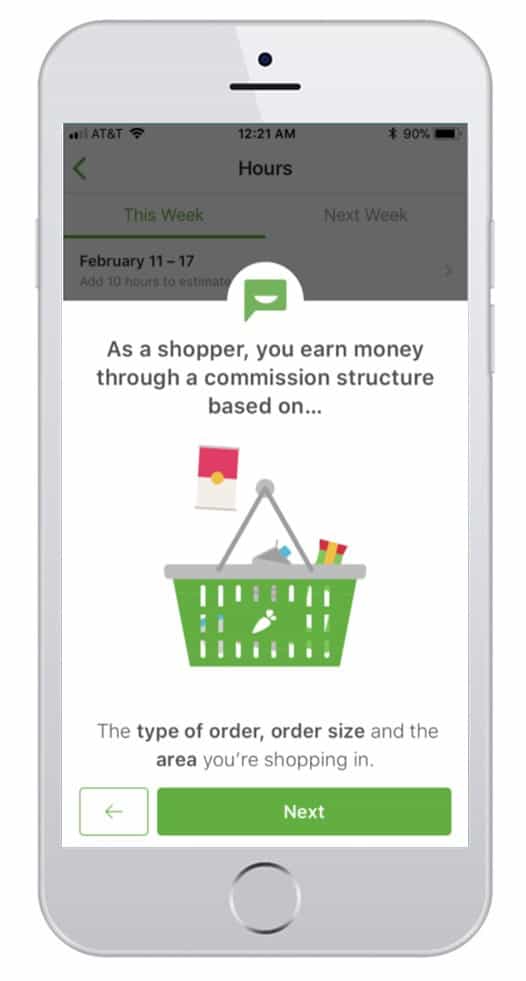 Instacart is a simple app that pays you to deliver groceries to people who hate (or don't have time for) grocery shopping.
As an Instacart "personal grocery shopper", you are the one who is doing both the grocery shopping and the delivering (so be sure not smash anyone's bananas).
Your rate of pay will depend on many different factors, such as the average size of your orders and average number of miles drives per trip. You can also get tips in addition to the pay that comes directly from Instacart.
Most people report an average earnings rate of about $15 per hour. If you desperately need cash, this is definitely something to consider.
15. HealthyWage
I haven't tried the HealthyWage app yet (as I am scrawny and actually trying to gain muscle), but if you've got a few pounds to lose, why not get paid $10,000 to do it.
HealthyWage offers a variety of ways to earn money – you can take on a weight loss challenge all on your own or you can enter a team challenge and motivate each other to shed more lbs. Prize payouts are based on a % of body weight lost and if you can manage to shed 10% of your body weight, you're free rolling the competition (at no financial risk to you).
This totally beats those at-work pools where people don't pay up, or worse, the competition never gets started all together. People are always looking to gym buddies to hold them accountable. But know what does an even better job? Your wallet.
16. Rover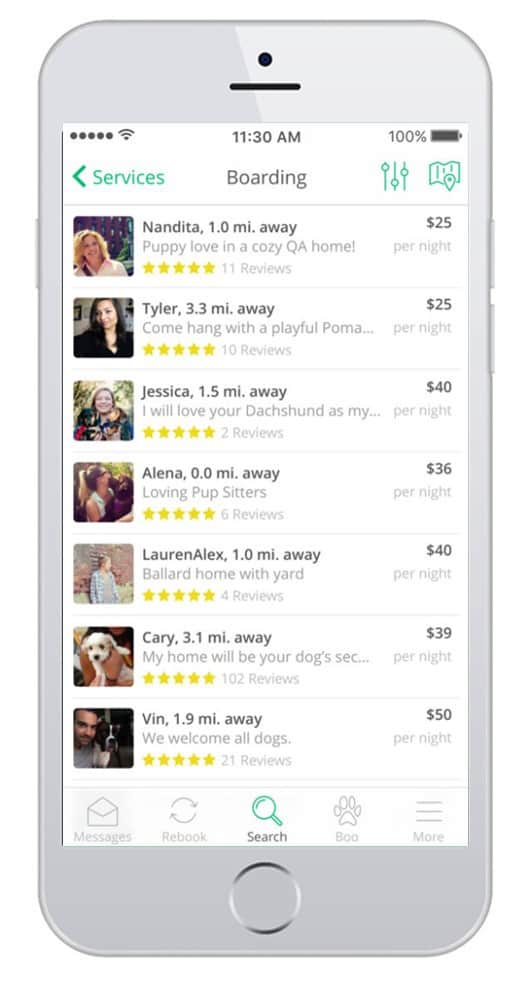 Do you love dogs?
Rover is an up and coming app that connects dog walkers and sitters with dog owners. That means you now have the opportunity to hang out with pups, and make money using your phone in the process!
For pet sitters, typical rates charged on the site range from $25-$100 a night.
Pop-in visits for 30-minute walks fall in the $10-30 range. With a neighborhood route, that can add up quickly!
As the service is still relatively new, your area is likely not yet oversaturated with animal pros. Get started before everyone finds out about this awesome gig!
17. Lyft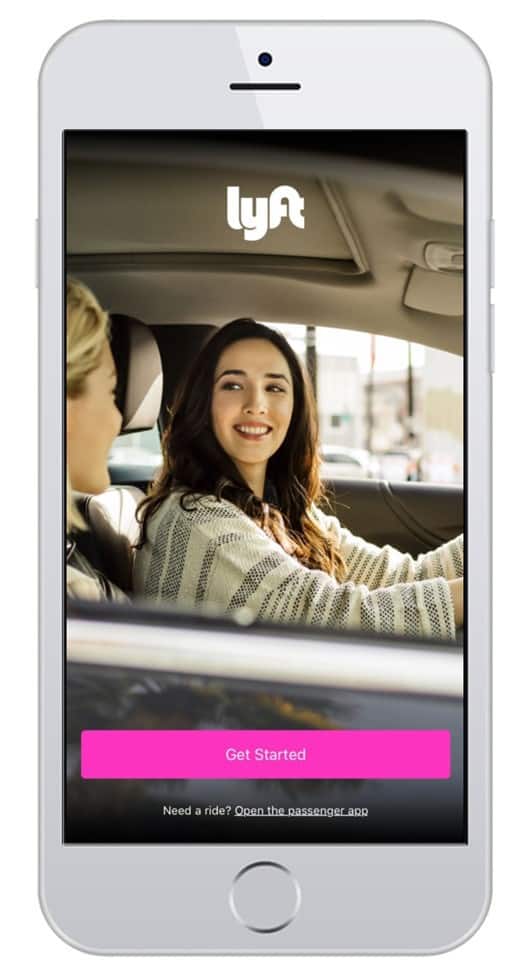 If you've got some free time and live in a reasonably busy area, becoming a Lyft driver can be a great money making side hustle.
And right now, they've got a promotion going on where any new driver will instantly get a $1000 bonus after completing their 125th ride.
If you start now and hustle hard on the weekends, you can probably unlock that bonus within a few weeks of driving (and that's in addition to your normal earnings).
Get on it!!
Note: Bonuses are always subject to change, so be sure to check Lyft's site for the most up-to-date information.
Apps to Sell Stuff
18. Airbnb
Airbnb is one of the best money making apps available. If you own a home, consider listing a room on Airbnb to make money from your space. Hosting can help you pay off debt fast, save money for an awesome vacation, or even provide a full-time income.
Here's how the Airbnb app works:
Create a listing by filling out a description, taking and uploading photos, and setting a price. Your listing helps guests get a sense of what your place is like.
Then, you set the availability and house rules for your listing. Once your listing is live, guests can book their stay at your home, and you start earning money.
To up the "trust" factor for both the host and the guests, Airbnb does require some verification information, including phone numbers. After a visit, everyone gets the chance to write a review. Reviews keep guest accountable for treating hosts and their homes with respect, and helps ensure hosts make their space as welcoming as possible.
Check out our complete guide to Airbnb hosting here.
19. BookScouter
Have a local book buy-back store that you frequently use? Stop. You're basically at the mercy of that singular store and their willingness to offer you a decent price on your book. Why settle for a monopoly when you can let the free-market system work for you.
Let BookScouter compare book prices across 44 vendors and then choose the one that offers you the best price (much like Expedia does for flights and hotels). With no listing fees, free shipping, and the best price for your book, there is no reason to sell anywhere else.
If you're a college student and the bookstore is no longer buying it back because it isn't the latest and greatest edition still on the market, BookScouter is your best friend. Be smart, get the most back out of your education investment.
20. Decluttr
If you've got piles of used DVDs, CDs and Blu-rays or video games lying around your house, you can make a few dollars for each one with the Decluttr app. They also accept electronics like phones, tablets, and game consoles.
If you have a smartphone then all you have to do is scan the barcode on the item and Decluttr will give you an instant cash price for the item. No auctions or silly listing fees like the likes of eBay. Just instant hard cash for items you don't plan on using again. Stop hoarding!
What I love about this app is how easy it is to use and get money back. All you do is scan the barcode of the item, and you'll know instantly how much you can get for it. When you've got your haul ready to mail in for cash, they'll send you a pre-paid box. Doesn't get any easier than that!